It is absolutely official now. Destiny of the Force is open, once again under the direct control of myself and Ta'u. A fair bit has changed as the old game just wasn't adequate enough. Now there is a running storyline, a Campaign mode, one that will shape the galaxy! Check out the site, even if you have no intention on playing, please just look t it, maybe give it whirl!
http://starwarsdf.forummotion.com/forum.htm
We do need lots of members, including a new leader for the Jedi! So come on by, follow the story!

_________________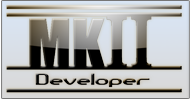 ---
Permissions in this forum:
You
cannot
reply to topics in this forum